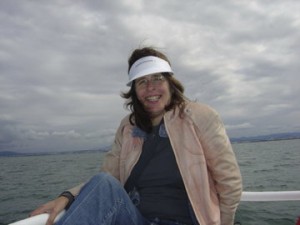 Heidi Strand is a visual artist, born in Trondheim, Norway, with roots in Minnesota, USA,
but lives and works in Reykjavik, Iceland.
Heidi  has had 24 private exhibitions and participated in over 40 joint exhibitions, some of which have travelled to many countries, as well as numerous states in the US.
Two of Heidi's works will be on show this summer 2017. The work Grand Finale is a part of the Grande Finale exhibition in Goes, The Netherlands, and the work Highlands is a part of the Northern Landscape exhibition in Jämsä, Finland.
In November 2015 Heidi and her sister Sidsel had the duo exhibition
To søstre – Two Sisters at Holmen in Asker, Norway; from Nov 7 to Christmas.
In October 2015 The Nordic House in Reykjavik, Iceland, hosted a solo exhibition of some of her latest work, in cooperation with Norwegian artists that performed in The Nordic House on the opening night with Segner, music, poetry, and stories.
One of her newer works, Pebbles & Moss, was on show with the European Art Quilt Foundation's VIII international exhibition, which opened in Birmingham in August 2014 and was exhibited in many European countries.
Heidi utilizes different materials and techniques and is a member of The Association of Icelandic Visual Artists (SIM), and The Icelandic Textile Guild.
You can e-mail Heidi Strand – heidimor53 (@) gmail.com
Updated July 7, 2017